This is a house and the home of Marion Cunningham, Howard Cunningham, Richie Cunningham, Joanie Cunningham-Arcola and (until he moved out) Charles Cunningham. As of Season three, it is also the home of Fonzie.
Appearance
Edit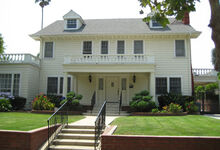 It is a white wooden house, with a pointed roof and black window frames. It has a lawn, with a hedge.
Fonzie's Apartment
Edit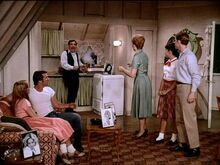 Since the episode Fonzie Moves In, Fonzie has lived there. It is situated above the garage, and has its own closet and bathroom. Hanging on the walls, are pictures of Fonzie's Love Interests, and it has a red couch, which folds out to a bed. It opens out onto the veranda.
The Living Room
Edit
Where the family sit when there is nothing to do. It opens into the kitchen. It features a T.V, and two green couches. Fonzie often sits on the barrier between the living room and the kitchen. Warren "Potsie" Weber doesn't mind eating in this room when he visits.
The Kitchen
Edit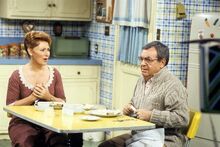 Where Marion cooks, and the others (including Fonzie) eat at a wooden table.
Richie's Bedroom
Edit
Where he sleeps.
Joanie's Bedroom
Edit
Where she sleeps and does her homework. It is upstairs and she often is sent there, to her annoyance. It is also the home of Herbert the white mouse, a snake, and Gertrude the hamster.
Marion and Howard's Bedroom
Edit
Where they sleep.
The Bathroom
Edit
Where they use the toilet, brush their teeth, wash their hands, look in the mirror, apply makeup, bathe, shower, and shave.
The Garage
Edit
Where the car is kept.
The Attic
Edit
At the top of the house.