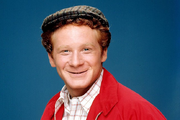 Ralph Malph is a Character from Happy Days. He was played by Donny Most.
Ralph's parents are mentioned and seen in a couple episodes. Ralphs parents are named Minnie Malph and Mickey Malph. In one episode Mickey and Minnie were about to be divorced until a talk with his son.
Personality
Edit
Ralph is a good-natured guy to his friends, but he's often shy when it comes to talking to girls or standing up to anybody tougher than him. Even though Ralph doesn't stand up for himself much, he ends up more successful in life when it comes to his job. Ralph by the end of the series worked as a eye doctor. Ralph's most frequent catchphrase is "I still got it". He also tells rather a lot of jokes and plays rather a lot of pranks. He describes his mind as being dirty.
Ad blocker interference detected!
Wikia is a free-to-use site that makes money from advertising. We have a modified experience for viewers using ad blockers

Wikia is not accessible if you've made further modifications. Remove the custom ad blocker rule(s) and the page will load as expected.